Window Tints Are Mostly Used For Protecting You From High Ultra Violet (UV) Radiation. Many People Use It For Keeping Privacy On The Inside Of A Car Or Other Vehicle And To Give Some Aesthetic Look To The Car.
One Of The Most Common Questions We Get On Our Blog Is Whether It Is Possible How To Remove Tint Glue From Car Window? Many People Have Posted On Our Blog Asking This Question Over The Years, So We Decided It Would Be A Good Blog Post.
Films used in window tints do not last forever. Over time the film of a window tint starts to degrade by the environment or other external conditions. The adhesive used in the tints loses its effectiveness by moisture, air bubbles, overheating, etc. This article will state how to remove tint Glue from car windows?
The ineffective window tints damage the reputation and external beauty of your car. Moreover, it results in residual glue and adhesives used for installing the window films and demands removal as soon as possible.
The good thing is, you do not need professional help for removing the window tints. You can remove the window films and the remaining residual glues quite easily using some common home appliances.
How to remove window tint glue left behind when removing window tint?
Window tinting or window film is a method of applying a translucent, colored film to a window, which protects it from ultraviolet rays and prevents heat gain. It is often used around car windows and is a popular means of privacy and privacy protection. Besides privacy, a car's windows also provide a clear view of the outside.
Cars with tinted windows or window film need special care. If not done properly, it may damage the window glass, making it difficult to see outside and difficult to drive the vehicle safely.
Window tint has become a popular way to customize cars and trucks. But, as with all things, there is a right and wrong way to do this. Here we will discuss how to remove window tint using a safe and low-cost method without damaging your vehicle.
How To Remove Tint Glue From Car Window? [Full-Guidelines]
There are several processes that are used for removing the tint and films from the car window. Most of the effective and easy methods are elaborated on below.
The first step to removing any type of glue from a car window is to make sure it is actually glue. Once you have confirmed this, you must use a solvent to remove the glue from the glass. The best solvent for this purpose is acetone. This solvent is 100% pure and completely safe for use on glass.
Use a high-quality eye dropper to apply a small amount of acetone onto a cotton swab. The acetone will spread along the glue and it will eventually be able to be rubbed away from the window.
Removing the window tints using Glass cleaner
This is the most common method used for removing window tints. Things you need are a good glass cleaner, a plastic sheet of 3x3ft, and sun rays.
Firstly you need to spray glass cleaner all over the window tint. Spread the glass cleaner liquid equally everywhere on the tint. Then leave it facing the hot sun for several hours.
After a while, the plastic wrapping should be removed first. Then you can peel off the film of the window tint softly using the edge or corner. You must peel slowly or may leave residuals of the glue on it.
This process is an old method and leaves a lot of residual glues and adhesive marks on the glass. Moreover, you always require the sunray to be hot for this method to work. This method cannot be followed if you are working in the garage or parking spaces.
How to remove window tints using a hairdryer or heat gun
Heat guns can apply heat blows that can reach temperatures up to 1100 Fahrenheit. Most of the commonly used hair dryers in the house can also do the job if a heat gun is not available. Hairdryers can also produce a heat blow of a maximum temperature of 300 Fahrenheit.
First of all switch on the heat gun or hairdryer and set the temperature of around 300 Fahrenheit. Now keep a distance around 8-9" from the target glass and keep blowing in circular motion till the corner or edge side of the window tint becomes loose and soft.
Secondly, you should start slicing on the peeled-off part using a sharp knife or razor. Holding the heat gun or hairdryer at a stable position keeps on peeling the film very slowly. You can use the razor or sharp edge of the knife to slice some tough adhesion part on the window tiny and carry on.
This method is easy and requires nothing but a razor or heat dryer. You should be very careful while handling the knife or razor as these are deadly and cause accidents. You should peel the film in a very slow motion or it is likely to leave glue and adhesive marks on the tint which requires further cleaning.
You must be careful while removing tints from the defroster lines. The razor or knife shall be used to be stroked parallel to the defroster lines. This way you can learn about how to remove window tint glue from the rear window with a defroster.
Remove tint glue from the rear window and front window using a steamer
Steamers are used to iron the fabric using hot water vapor. The things required for this process are a fabric steamer, adhesive remover or alcohol, and a paper towel.
First, fill the fabric steamer with water. Now you must hold steady at the tint corner or edge only from 1-1.5" away. This will melt down the glue and the film will become separated. You shall quickly use a sharp knife and cut through it slowly and steadily.
Now hold the peeled part of the tint and keep on focusing on the fabric steamer. You can slowly keep on pulling the tint film keeping the steamer point at it. After peeling off the entire film, spray the adhesive remover equally on the glue residuals. Then wipe the window using soft paper towels or cloth
It is the easiest and safest way to remove the tint from car windows. But it is imperative to do it very steadily otherwise most of the glue won't melt and will be left at a later time.
Best way to remove car window tint
Tinting is an easy way to make your car look better, but it can make your car more expensive, too. Tinting is a type of coating that protects the glass of your car from the sun's heat, which helps keep your car looking nice, but makes it harder to see out of. Unfortunately, some types of tint can block out sunlight that is necessary for our bodies to produce vitamin D, which helps the body regulate calcium and prevent bone fractures.
You wanna know a secret? If you want to remove your old, faded, cracked, peeling, or chipped car clear coat, there's a way to do it.
But, you'll need a few things, and those things include Worcestershire Soap, now available at Walmart, Or you could do what I did, and use a combination of Or you could do what I did, and use a combination.
How to remove window tints from car windows using Ammonia
Ammonia tends to react with glue and remove its adhesiveness. This process of removing window tints from car windows can be a little expensive.
You would require liquid Ammonia, dishwasher soap, cloth, plastic bag, and paper towels, etc. You can cut the pieces of the garbage plastic having a slightly bigger dimension than the window.
Firstly, mix the soap to make a solution and pour it into the spray bottle. You should spray the entire window with the soap solution and the ammonia at the same time and wrap up the window using plastic sheets.
You shall leave them wrapped window aside for several hours. The effectiveness of the adhesive glue reduces over time by the reaction with ammonia and the soap solution loosens the residuals.
Now gently hold the corner or edge of the tint and start peeling off by giving heat from a heat gun. Next, wipe and clean the whole window with a paper towel and then with a dry soft cloth.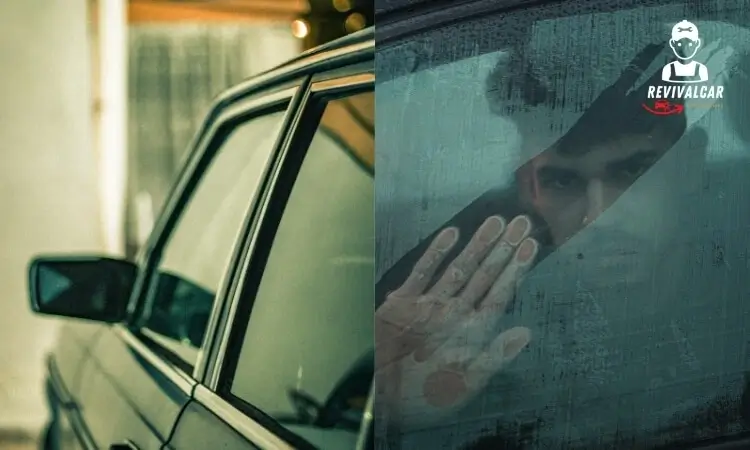 Reasons to Remove Window Tint
Window tinting is a popular way to improve the appearance of your vehicle. However, shop owners are often not aware of the law that restricts the use of tint that has a light transmittance of less than 30%, which is the amount of light allowed to pass through the tint. If the tint is less than this amount, it is illegal to use window tint on vehicles in Michigan.
The plastic window tinting film that is applied to the windows of your car or home is used to protect both you and your property from the damaging rays of the sun as well as that of other cars' headlamps. However, this film is not as durable as it seems, and over time it starts to peel off. The film will keep the wind and weather away, but as time passes, you will notice that it starts to peel off. The film will peel off the first few layers until you see a clear window. The film, which used to be a thin layer, will now cover the entire window.
Related Post, May be useful to You🙋‍♂️
People also ask🤔
Can I remove window tint glue with rubbing alcohol?
Rubbing alcohol is 97% percent Ethanol. Tint glues are soluble in high-grade solvents such as Alcohol. Therefore, rubbing alcohol will remove window tint glue.
Does WD40 remove tint?
Answer: The WD40 is a chemical that damages the sticky adhesive character from a substance. WD40 adhesive remover can remove tints as well.
How to Easily Remove Window Tint Glue?
Answer: Back window has defroster lines that become hot in cold weather and remove the ice from the back window. Using sharp razors and stroking parallel to the defroster line is the easiest way to remove window tint glue from the back window.
Final Word
Damaged and ineffective window tints are useless and require replacement. Removing the ting and residual of the glue is a sensitive job. The important thing you must require while removing tint is your patience. Following the above-mentioned steps will let you learn about How to Remove Tint Glue from Car Window? without spending much money.
Following the ting remover procedure in a rush may damage and leave scratches on the glass. Giving extreme heat from a heat gun or hair-dryer for a long time in the same spot will result in cracking the glass. Therefore necessary protective gear such as safety glass, rubber gloves, and masks should be worn before doing any procedure.