Recently Dan has brought a brand new car. But car maintenance and cleaning seem tough to him. He also brought some kits for his car including a more best foam gun and foam cannon. But how to use foam gun & foam cannon for a car wash? He hasn't much idea about it.
If you are facing the same problem as washing your car, this article is for you. Here we are going to present the step-by-step guide to washing your car properly by foam gun and foam cannon.
Before jumping on the washing steps, first, you should know what the foam gun and foam cannon are. Also, we will discuss what facilities you will get from them.
What is a Foam gun?🔫
The foam gun is a tool to clean your car. It helps to clean the lifted dirt, scratches, grime, wax effectively. Also provides necessary lubrication to your car.
The foam gun is attached to the garden hose adapter with a spray. The sprayer is attached to the water tank.
It is helpful mainly when you need to wash in the driveway, you haven't access to any pressure washer.
What is a Foam cannon?🔫
The foam cannon is another useful car washing tool that uses the power of the pressure washer.
Usually, warm water is used to help to mix the washing ingredients perfectly. The water, car wash soap, and air create thick suds, then shoot over the car. The thick suds help to clean stubborn stains, dirt, grime, and leave a shiny car.
How to use foam gun for car wash? [Ultimate Guide]
Washing a car with a foam gun isn't hard anymore. To get the best result, you have to use foam correctly all over the car.
Step 1 – Fill the gun tank
First, you should fill the foam gun tank with suds. The mixing process is easy but may vary from device to device. You can follow the device instructions for this. Then attach the hose with the foam gun.
Step 2 – Rinse off the car
To wash away the loose debris and surface dirt, rinse off your car with only plain water. It's a pre-process to make the car ready to apply foam. You should never apply it to a non-lubricated surface or dry car.
Step 3 – Apply a layer of foam
Now apply a thin layer of foam to the car body, window, door, gaps & cracks. You can divide it into sections like door panels, trunk, or hood. Which will be helpful to clean fast and easily. Keep the foam for 20-30 seconds.
Step 4 – Rinse off the foam
After a while, rinse off the car with clean water. In this step, you should not rub the car.
Step 5- Apply another layer of foam
Again, apply a layer of foam on the car surface. It's like step 3 except using a soapy wash mitt to remove dirt off the car.
Then rinse off the car properly. You are ready to go now with a shiny clean car.
How to use foam cannon to wash the car?
The cleaning process by using a foam cannon is almost similar to the foam gun. In addition, it makes the car washing process faster and easier. Per minute, a foam cannon can flow around 1 to 5 gallons based on the capacity.
Again, the pressure washer can form a rich and thick foam which is essential for good coverage.
Mainly the pressure attachment speeds up the car washing process. More foam soap and washer wash away the dirt and grime without any scrubbing. A thick foam base also helps to minimize scratching on the vehicle surface.
Required types of equipment –
Foam Cannon
Pressure Washer
High Foaming Soap
Microfiber Drying Towel
Microfiber Wash Mitt
Bucket Dirt Trap
Wash Bucket
If you need any Best product from here. You can purchase___😱
Step 1 – Fill foam cannon reservoir
First, fill the foam cannon reservoir with 3 to 5 ounces of car washing soap. Then fill the rest of the reservoir with clean water. Now shake to mix them well.
Step 2 – Remove loose dirt
To rinse the loose dirt on the car surface, rinse with plain water first. We recommend using a car-safe pressure washer tip for this. It will clean your car properly without any damage.
Step 3 – Apply the layer of foam
After rinsing the vehicle, attach the washer tip with the foam cannon. Until you get the desired amount of foam, you need to rotate the top knob to "positive"
It is useful to wash cars with a spray pattern. To achieve this, rotate the foam cannon nozzle that will cover the surface of your car properly.
Then spray on the car and let them sit on the car body for a few minutes. Rinse it with clean water.
If your car is heavily spoiled, you should go for washing by mitt. In case, the bucket dirt trap is needed to place in the bottom of the bucket. Fill ¾ of the bucket with water. Then throw the wash mitt on the dunk.
Step 4 – rinse off the foam
Now the cleaning time. As the lower part of the car is dirtier and spoiled, it's good practice to start working from the top part to the bottom.
Do not rinse at circular motion, always work at straight-line motion. Because circular working motion can cause scratches and swirl marks on the car finish.
Step 5 – Drying process
It's the final step you need to finish. Once all of the foam is rinsed off, you need to go for the drying process. Otherwise, the water spots may fall on the car.
Take the drying towel and lay it on the car surface. Pull it in in a straight direction to prevent the falling of scratches and swirls. In addition, you can use a double-sided microfiber drying towel to dry your car properly.
You should continue until you notice no streaking occurrence on the car.
FAQs
Is foam car wash better?
Foam car wash either by foam gun or foam cannon is better for your car. Foam can properly contact the car surface and create a lubricant to provide a good result. Also, the car safe pressure of foam cannon creates a great combination of car washing soap and water.
By hand, you can't make a perfect soap-water mixture all that time. Foam can wash away dirt, grease, oil and helps to reduce scratch as well. After foam washing, you will get a sparkling clean vehicle.
So far, foam car wash is better than regular wash.
Why should I use a foam cannon to wash cars?
There are lots of benefits to using foam cannon to wash your car. Foam cannon car washing is faster and easy. It will speed up your washing process significantly. You don't need to worry about the right soap mixture. The pressure washer mixes water and soap properly and creates a thick foam.
The foam creates a slick surface that can easily wash away all dirt and grease. Also, reduce the screeches making them more glossy.
Again, foam cannons provide the facility to avoid cross-contamination.
How much soap do you put in a foam cannon?
In general, 1 to 3 ounces are enough soap to put in a foam cannon. You can use car wash shampoo as well. Fill the rest of the reservoir with plain water. Then mix them well to produce richer and thicker foam.
We recommend using foam cannons for those who own an SUV or large truck. With this little amount of car washing equipment or soap, you will cover up your vehicle effectively. That will remove all dirt and leave the car sparkling as well.
How does an expanding foam gun work?
To expand foam, it needs to conduct with moist air. There is a plunger button in a foam gun within the collar. The plunger gets depressed when you add the can to the foam gun.
The expanding foam is the polyurethane component in the can. They react with air which causes the liquid to expand.
So far, it may take approximately 5 to 60 minutes to become tack-free depending on the product condition.
Hence, the expanding foam gun works well to remove dirt and reduce scratches.
Can you attach a foam cannon to a pressure washer?
You can attach a foam cannon to a pressure washer to car soap control and adjustment, quick connection plug, and speed control. That will also provide the facility to spray foam on your car.
Though there is no specific standard fitting to attach pressure washers with foam cannon. Just make sure the pressure washer has a quick connect and care safe wash speed adjustment system.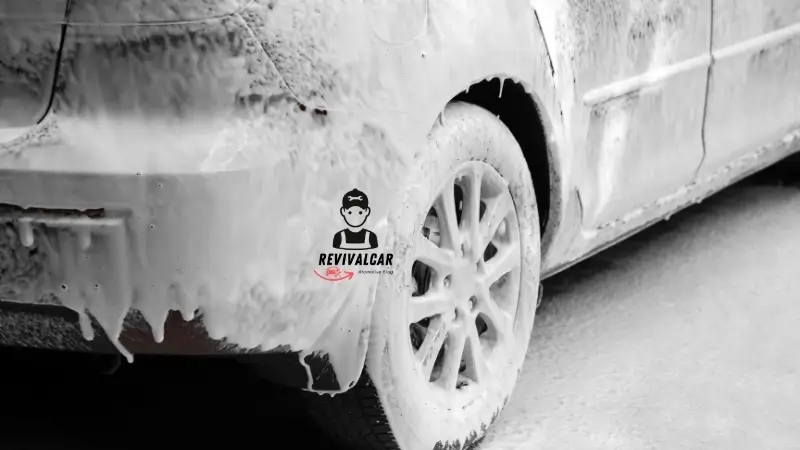 Final verdict 🤝
It's time to wrap up the content. We try to sum up how to use foam gun & foam cannon for the car wash. Here you can understand that a foam cannon is far better and faster than a foam gun to wash your car. Though both are essential and useful tools for cleaning your favorite car.
Hopefully, cleaning your spoiled and dirty car is not a nightmare at all. Using a foam gun and foam cannon, it's as easy as a piece of cake to you.