Looking for a good car washing foam gun? Whether you ride to work every day or go on long trips on the weekend, your car deserves a good wash. A washing foam gun can solve the issue. It's an easy and fast solution to the problem.
The car wash gun or foam gun is a sophisticated tool to wash cars with minimum effort. It saves you a hefty amount of time and money and costs only a few bucks. Additionally, it saves an enormous amount of water, not only saving you a loaded bill but also eco-friendly as well.
Moreover, it has to have a quality spray nozzle to evenly spread the soapy liquid all over the vehicle. The container should be big enough to contain enough liquid without a need to refill, and small enough to carry without having muscle pain.
The list of the 7 best car washing guns provided here is suitable for all types of buyers and includes a short description of and pros and cons of the individual product.
Also, this article contains a buying guide that helps you to find the best one among loads of washing guns available out there. Additionally, there are some answers to the related questions that may quench your thirst regarding the topic. So, let's find out the best foam gun or cannon from our list.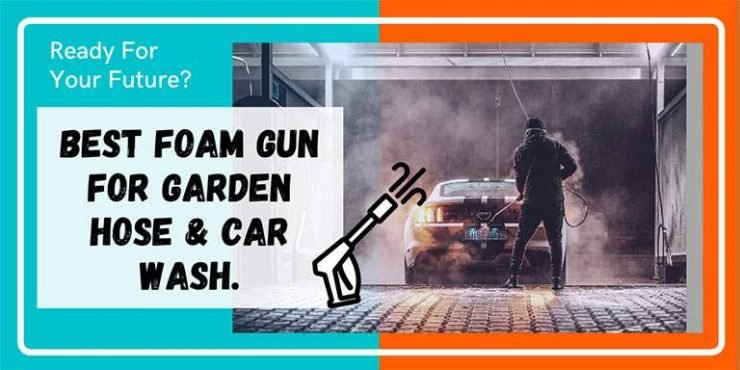 Last update on 2023-06-01 / Affiliate links / Images from Amazon Product Advertising API
7 Best Foam Gun VS Cannon Review Buying Guides
After researching the web, we've picked for you the 7 best foaming guns. They have individual features that make them outstand the competitors on the market. These foam guns are made with durable materials. They have a good flow of spray and a quick female connector to adjust with a garden hose. So, let's jump into the details and find out their pros and cons.
1| Blisstime- Snow Foam Lance Car Wash Pressure Washer
This car washer has a comparatively big washing container than most on the list. So, it is a preferable choice for big car owners. Also, the materials used to manufacture this product are very durable and corrosion-free.
The Blisstime Snow foam lance produces a thicker and delicate foam to give a perfect wash. The foam can be, reducing the use of excess water, saving you some bucks from your monthly budget.
The ¼ inch adjustable foam lance includes a rotating nozzle and can change the jet angle as necessary. The nozzle has an outside diameter of 1.2 cm that is just on point to supply the liquid at a sufficient flow under the required pressure. The two-way rotation regulator controls the water stream through the hose.
This vehicle washing lance has a 33 ounce or 1-liter container to hold an adequate amount of liquid to wash a huge car at once. The plastic bottle has an embossed measuring guideline to get a perfect measurement. It weighs only 1.35 pounds, not a hefty tool to carry around. And there is a 10-inch wash mitt included with the product.
Product Information :
Item Dimensions:9.17 x 5.67 x 4.88 inches

Exterior: Nozzles- Stainless Steel, Brass connector, Body- Plastic
Item Weight: 1.35 pounds
Foam Gun Blisstime [Pros]
Easy car wash.
Lightweight.
Easy cleaning mechanism.
Wash mitt included.
Big wash container
Anti Corrosive material.
Low price.
Foam Gun Blisstime [Cons]
Female quick connect fitting and high-pressure cannon is not included.
4.4 out of 5 [71%] Positive Product Reviews View on Amazon
---
2| Foam King Deluxe best foam cannon for garden hose
The Foam King Deluxe foam car washer gun includes a high capacity foam nozzle, spray gun, hose attachment, quick connection, instruction guide, and a patented mix head. The product is best to be used with car detergents only.
The quick connector adds the standard garden hose to the gun for a quick car wash. The visible fill lines help you to fill up the bottle at the required level. There is a 6 level ratio dial to control the flow at the right level.
The bottle fill lines and 6 level foam ratio dial lets you fill up the bottle at a required level without having to guess it and spray the liquid at a preferred flow. The quick connector lets you switch from foam to water to rinse the object. The solid brass fitting is perfect for durability and anti-corrosion factors. The precisely fit rubber seal makes sure it doesn't leak during the wash.
Product Information :
Manufacturer: Clean Car USA.
Item Dimensions : 9.2 x 5.6 x 5.4 inches.
Exterior: Nozzle- Stainless Steel, Brass connectors, Body- Plastic.
Item Weight: 1.45 pounds.
Car Wash Gun [Peos]
Connects to the garden hose
6 level foam ratio dial
Brass fittings
Long foam nozzles
Least maintenance required
Car Wash Gun [Cons]
4.3 out of 5 [63%] Positive Product Reviews View on Amazon
---
3| Chemical Guys HOL148, 16 Piece Car Wash Kit with Foam Gun
This vehicle washing kit is an excellent addition to your car washing game as it includes everything you may need for a wash. However, this item has a high price.
The Chemical Guys' HOL148 is a 16 piece car wash kit consisting of TORQ Foam Blaster & Bucket with the 16-Piece Arsenal Builder Car Wash Kit. The foam blaster 6 is a sophisticated gun that does not destroy your car's surface coating. As most of the scratches can be avoided, the kits were given with the package to ensure a proper cleaning method that is safe and scratch-free.
The heavy-duty 4.5-gallon bucket is a useful addition for washing. The sturdy-made detailing bucket has a unique design that not only saves space in your garage but also has the compatibility to go with all the kits that are included in the package.
The Cyclone Dirt Trap bucket insert reduces the amount of dust and dirt in the bucket water by trapping them inside it. So, the water has a reduced amount of material to scratch your car while scrubbing with a mitten. A pack of 16 oz Honeydew Car Wash Soap, Butter Wet Wax, Silk Shine Sprayable Dressing, Signature Series Glass Cleaner do their assigned jobs perfectly.
A Chenille Microfiber Premium Scratch-Free Washing Mitt can hold adequate suds to clean the car properly. The soft fiber doesn't harm the car at all. The easy-grip applicator pad to apply tire shine, staggered tip short handle brush is easy to use to clean the dirt from the wheel, 3 pack Workhorse professional-grade blue microfibre towels remain soft even after a dozen washes.
Product Information :
Manufacturer: No.
Item Dimensions (LxWxH): 8.27 x 5.12 x 3.15 inches.
Exterior: Nozzles- Stainless Steel, Brass connectors, Body- Plastic.
Foam Gun For Hose [Good Side]
Comes with a bunch of kits
Great car care products
Includes everything that you may need for a good car wash.
Other combinations of accessories are also available
Value for money
Foam Gun For Hose [Bad Side]
4.7 out of 5 [82%] Positive Product Reviews View on Amazon
---
4| Chemical Guys Torq best foam gun without pressure washer
The Torq foam blaster from Chemical Guys is a great car washing gun to give your car a foamy wash. Attaching rubber correctly prevents washing gun leaks that are the features really love to this foam gun.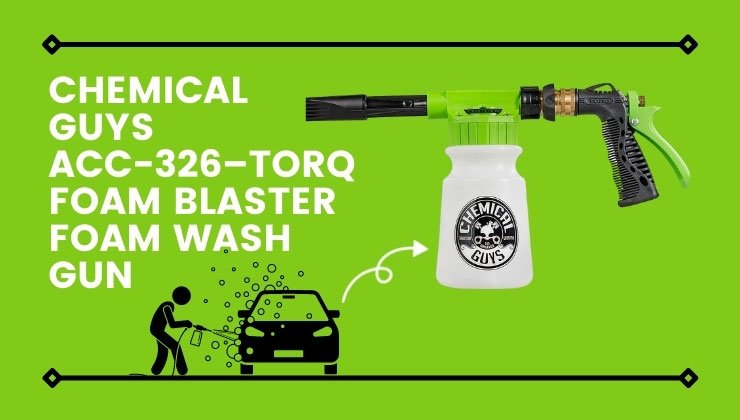 Chemical Guys ACC-326 Features :-
The Chemical Guys' ACC 326 Torq Foam Blaster 6 connects to any garden hose easily. You can have different combinations of washing and glossing kits with the gun but you will have to pay extra. But the tool itself has an affordable price range.
You can control the concentration of soap to make a more foamy or more watery solution just by turning the dial. It saves the amount of soap as well from being wasted. Also, the gun creates an enormous amount of foam to bubble bath the car.
Gives your car a scratch-free wash.
The quality brass connector and the sturdy plastic nozzles give the product a durable service life. The lightweight tool can be a great addition to your car washing tool bucket.
Product Information :
Manufacturer: Chemical Guys.
Item Dimensions (LxWxH): 9.09 x 5.51 x 5.39 inches.
Exterior: Nozzles- Stainless Steel, connector- Brass, Body- Plastic.
Item Weight: 1.35 pounds.
Foam Wash Gun
[Good side]
Useful to be used in a task not related to the ar also
Kits are available from the Chemical Guys
It's a great alternative to the pressure washing car wash
Can be used with the garden hose
Foam Wash Gun [
Bad Side

]
This is not useful with a pressure washer
If the rubber ring in the gun is not attached properly it may leak
4.2 out of 5 [63%] Positive Product Reviews View on Amazon
---
5| SwiftJet Car Wash Foam Gun Sprayer With Microfiber Wash Mitt
This car washing foam gun is suitable for anyone who wants to get an easy, fast-cleaning car washing experience at a reasonable cost.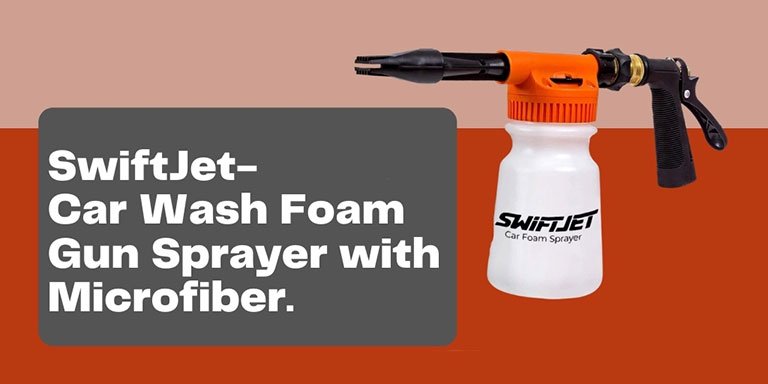 SwiftJet Car Wash Features:
SwiftJet car wash foam gun sprayer comes with a bonus washing mitt that is easily usable for car washing. It allows you to wash your car without having to think about buying a mitt separately. What a great combo!
The product features a foam ratio adjuster, an ergonomic handle, an ABS plastic nozzle, and a foam blasting tip. The PVC bottle and the quick brass connector are durable and corrosion-free. And the anti-skid handle doesn't slip away from the hand when it gets soapy. The quick female connector lets you do the job way faster than manual washing. Moreover, the foam loosens the dirt from your car's surface and the soft mitt easily cleans all the dirt away.
The foam concentration can be adjusted. The high-capacity soap mixing bottle holds enough liquid to wash a car at once. Also, the tool can be adjusted with garden hoses for easy use. The leak-free nozzle doesn't splash you when you're washing the car. It evenly sprays the soapy liquid in a constant flow. It is a perfect pick for an easy car washing solution.
Product Information :
Manufacturer: SwiftJet
Item Dimensions (LxWxH): 9.25 x 5.67 x 5.67 inches
Exterior: Nozzle- Stainless Steel, connector- Brass, Body- Plastic
Item Weight: 1.75 pounds
Car Washing Gun
[Good Side]
Easy to use
A bonus wash mitt
Fast cleaning
Leak-free nozzle
Adjustable foam concentration
Car Washing Gun
[Bad Side]
No metering lines on the container.
4.5 out of 5 [70%] Positive Product Reviews View on Amazon
---
6| Liquid X- Best Foam Gun for Garden Hose
Let's give your magnificent car a luxury wash with the Liquid X foam wash gun and their premium shampoo to remove the surface grime and dirt without removing the glossy polish.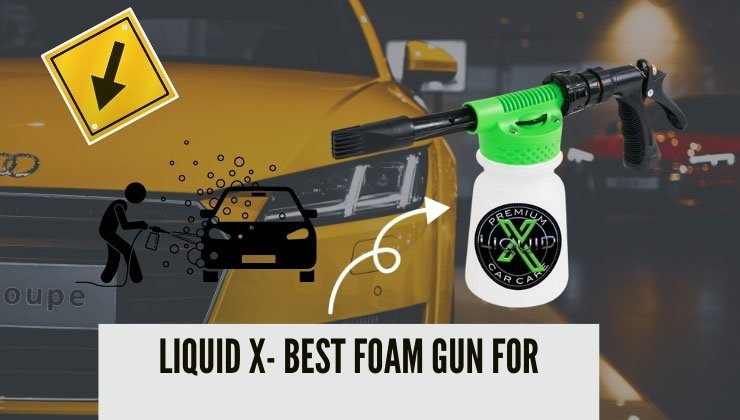 The Liquid X foam gun is very ready to go with your regular garden hose. You need no additional garden hose or adjustor, or any pressure washer wands to use the gun.
The technique that is used to apply the liquid lets the foam cover the surface with super ease. It also helps to remove the grime and dirt from the surface without pushing any extra burden to the user. Furthermore, the technique removes the surface dirt without having any need to scratch the paint of the car.
The spray gun lets you spread the soapy liquid from a distance that you can save yourself from getting wet. The easy pull trigger handle is very handy in terms of direct action.
You can wash anything with this washing tool from a car to truck, SUV, RV, motorbike, and other vehicles as well. And the high-quality materials ensure durability for a long period.
Product information :
Manufacturer: Liquid X
Item Dimensions: 9.2 x 5.5 x 5.4 inches
Exterior: Stainless Steel, Brass
Item Capacity: 0.6123 liters
Liquid X
[Good side]
Long service life
Attaches to regular garden hose
Fast washing
Easy to use
The gun trigger is included
Safe washing without damaging car paint, preventing scratches and swirls
Removes dirt and grime easily
Liquid X
[Bad side]
4.3 out of 5 [61%] Positive Product Reviews View on Amazon
---
7| Ontel- best car wash foam gun for pressure washer
The Ontel adjustable foam cannon produces snow-like foam to wash cars, motorbikes, windows, driveway, roofs, and even floors, boats, RV, ATV, and so on.
The water regulator has two individual regulating points. The +(positive) indicates more sprinkle and less foam production. And the -(negative) indicates fewer waters, hence more foam production.
The stainless steel spray features can spray in cylindrical and fan patterns. The spray pattern can be adjusted to produce foam by moving the knob to the required way. Turn it to the knob to the right or close to getting foam thickness to spray facilities.
The quality brass connector is convenient and easy to use. However, you may need to buy the washer gun separately to connect with the brass connector and start the washing. The adjustable brass foam lance has a ¼ inch connection tube.
The pressure washer wand requires 2.0 GPM(Gallons per Minute), and 1000+ PSI to operate. The max flow is 5.3 GPM, and the maximum water pressure is 200 BAR- 3000 PSI. As the gun can endure the highest temperature of 60℃/140℉, you can use warm water to dissolve the soap and give the car an excellent wash.
Product Information :
Manufacturer: Ontel
Item Dimensions (LxWxH): 9.02 x 7.83 x 4.53 inches
Material: Nozzle- Stainless Steel, connector- Brass, Body- Plastic
Required pressure: 70BAR – 1000PSI
Maximum pressure: 200BAR – 3000PSI
Item Weight 1.12 pounds.
Ontel foam gun
[Good Side]
Adequate from production.
Affordable price.
Adjustable spray nozzle.
Quality material.
Professional and household use.
Ontel foam gun
[Bad Side]
The washer gun trigger is not provided, need to buy separately.
4.1 out of 5 [57%] Positive Product Reviews View on Amazon
---
Why Should You Use a Foam Gun?
So, what are the Benefits of foam cannons? A car washing foam gun has a lot of benefits that will make you buy one of the sprayers from our list. A washing gun not only helps to reduce the workload, but also it saves time at a great level. Here are some benefits that show why you should pick a washing gun over manual car washing.
Saves Time: A manual work inarguably takes a hefty amount of time when compared to a machine job. It is a super easy and fast process to spread the soapy water all over the car using a washing gun.
Reduces workload: When you manually wash a car, it not only takes a lot of your valuable time, it is tiring as well. A spray gun is easy to use and does the job perfectly without tiring you when you're about to enjoy the weekend. It takes the least amount of effort.
Multifunctionality: You can wash any vehicle, like- RVs, SUVs, trucks, and motorbikes, not only the car. Not necessarily you have to use it only for car washing purposes, you can use it for washing parkways and driveways. Moreover, you can also use a foam gun to clean the window, glass surfaces, grills, and any heavy machinery or tools. You can clean a lot of other things as well using the washing gun.
Saves Money and Water: You need a huge amount of water to wash a car. That adds up to your monthly bill. So, how does a washing gun save money? A washing gun spreads the soapy liquid with great pressure on the surface of the car and breaks the surface scum into little particles that are easy to remove with the least amount of water. This way, the spray gun washer saves you a bunch of dollars in your monthly budget as well. Additionally, any leftover soapy can be stored in the container for later use.
Easy Clean up: The foam cannon serves you the easiest way to clean up your car. Spraying soap and rinsing at a fast speed finishes the job with the least effort. The easy and hassle-free option is always a priority to opt for.
Foam Gun Vs. Foam Cannon: What's The Difference?
When looking for a foaming kit for washing cars, you may find a variety of them. Some are foam cannons, and some are foam guns. Now, what are the differences between them? Or are they the same but only have a different name? Is there any difference between them?
In essence, the foam cannon or lance is attached with an electric or gas pressure washer to operate where the foam gun is attached with a regular garden hose. However, they have some pretty basic structural differences that can be outlined just by looking at a picture.
Considerations Before Buying A Foam Gun
Some people love to wash their cars, whereas others find it a hard task. So, what makes the best foaming gun? Here are some attributes that must be in the particular foaming gun that you would like to buy.
Durability
The foaming tool needs to be made with durable material. The spray point has to be made with corrosion-resistant materials, whether it be quality brass or sturdy plastic. The container has to be made of quality plastic, leaving the least footprint behind on earth, meaning eco-friendly or environmentally safe.
The Quick Female Connector
The quick female connector or quick release is an easy pathway to switch your washing gun from spraying foam to sprinkling. It should get attached to a regular garden hose without having any trouble. Moreover, the connector shouldn't be loose or made of corrosion-prone material. And the switching job should be fast and hassle-free.
Container
The bottle or container may have the capacity to carry between 600 ml to 1 liter of liquid. For a bigger car, the big 1 liter containers are recommended to avoid refilling hassle. The marked metering lines make it way easy to pour the right amount of soaps and water into the container. Thus it saves you from wasting that expensive car shampoo. The bottles may have an opaque or almost transparent outlook where you'll get an idea of how much of it is already filled. However, the opacity may not be a great factor but is quite significant when the bottle gets empty or overflown.
Interchangeable Nozzle Tip
The interchangeable nozzle tips are not available with all foam cannons. Some producers may include 15, 20, or 40-degree angle tips to have a particular water flow. Moreover, it is also useful when it's connected with a pressure washer or garden hose to rinse the car at a different angle.
Weight
The total weight of the foam gun should not exceed your carrying capacity. Heavy brass attachments may make it bulky to carry. So, a lightweight foaming gun is preferable over a hefty one.
Pressure Washer
When picking a foam cannon, it is a significant point to check up on the water flow rate of the pressure washer. Most of them can handle up to 2 GPM (gallon per minute), but not all can have a similar capacity. There are specific pressure counts on every pressure washer. However, foam cannons generally require from 1000 to 3000 PSI (pounds per square inch), and the regular pressure washers have a pressure of 1400 to 2500 PSI. So before attaching it to the foaming gun, know the required amount and adjust it accordingly. Pick the foam cannon that is compatible with your pressure washer while the other features are on point.
Price Of Foam Gun
Foaming guns can be found in three different price ranges. In our top foam gun list, we've included every type of wash gun. Here's a demonstration of what a particular price range can buy you.
$15 to $20: Most foaming guns on the market have a reasonable price range, from $15 to $20. The common features you can get in this price range are a spray nozzle and a big container. Some manufacturers may include accessories like- an interchangeable metal nozzle, convenient quick connectors for easy switching from soap to water, etc. you may need to buy the gun trigger separately at this price point.
$30 to $60: If your budget is a bit higher, you can pick from this price range. In this category, you will find foam guns that include- a wash mitt, the gun trigger, quick connector, interchangeable nozzle, etc. Some manufacturers also include car wash shampoos or shiners of their brand. And you may have some options to choose from.
$75 to $100: The highest range of price gives you professional-grade products. The package generally includes- snow foam shampoo, car wax, microfiber wash mitt and towel, wash bucket, dirt trap bucket insert, wheel and rim cleaner, sprayable shine dressing, glass cleaner, an applicator pad, and a flagged tip brush to remove dirt stuck on the tire or dashboard. These products normally have a higher service life and hassle-free use.
More Tips car wash Pro Users…
Don't spray at the vehicle first, rather apply on the driveway. It will let you have an idea about how the thing works, also maybe you'll choose a better pattern of spray, or find the perfect ratio of soap and water.
Using dishwasher soap is not a genius idea as the thing is made for cleaning food residue and removing grease, the harsh elements may harm the paint and gloss of the car.
Use a quality washing soap or shampoo to get the best result.
The soapy liquid solution needs to be adjusted according to your car's condition. A very dirty car needs a deep wash with more foam, where a slightly dirty one needs a light wash with a more watery solution.
Using warm waters gives a better result as the soap dissolves in the waters perfectly.
Attach the lid and the quick release properly at a great torque so that it doesn't leak, or worse splinter when you trigger the gun.
Give the bottle a good shake before using.
For a super dirty car, you may need to wash it twice for a full cleaning result.
One last tip. Do not wash the soapy solution immediately or let it sit for hours. Both ways it's not appropriate. Rather, after letting the soap sit for a while, scrub and rinse it. And using a chamois, dry your car immediately.
Frequently Ask Questions
Can I Buy a Different Car Wash Soap Than the Brand of Foam Cannon I Bought?
Of course! You can definitely buy a different soap brand to wash your car than the foam cannon. However, you may need to adjust the soap dilution ratio to an appropriate level.
Will a Foam Gun Fit Onto My Pressure Washer?
Well, it depends on the manufacturer. Some may make it fit a pressure washer, others may prefer to fit it to the garden hose. Inspect before buying. And check out the other requirements like the PSI and GPM.
Are Foam Guns Any Good?
The foam guns are great tools to wash your car most effortlessly. Moreover, these washing cannons have got so much popularity in recent years.
Which One to Buy: a Foam Gun or Foam Cannon?
We suggest two different solutions. If you own a pressure washer, go for the foam cannon which is also known as foam lance.
what is the best car wash foam gun?
The best car wash foam gun is the one that is able to clean your car without damaging it and without requiring a lot of effort on your part.
What Is The Best Foam Cannon?
The best foam cannon depends on what you are looking for. Foam cannons are used to disperse foam or flour. If you are looking to use foam cannons for something other than that, then there are better options.
But if you have a garden hose, a foam gun is preferred. However, if you own both, it's up to you which one to buy as both works great as a car washers.
Final Thought About Car Wash
We've brought you the best foam gun among the hundreds out there. The foam gun is not only helpful for washing cars fast, but it also reduces the working time, saves water, saves you a ton of time to enjoy with your family, and lastly gives your car a nice and clean afterlook.
So, which one did you pick? Why do you think it's the best foam gun among them? Let us know in the comments below. Now, don't waste any more time talking! Go and give your car a good soapy bath and see how glossy it shines. Oh, and don't forget to share with your family and friends.