Getting into the car on a cold morning but finding the battery dead, what's the quick solution to this problem? You may think about jumper cables or recharging the car again, but the efficient and effective solution is the jump starter.
Jump starter is now widely used and famous for its unique features and functionalities. It can be the best choice in an emergency as well. Hence, you will find a lot of varieties in the market. But which jump starter will be appropriate for your car? If you are tired of searching for this answer, here we are.
We are going to present an A to Z brief about jump starters. Let's dive in – best Jump Starter With Air Compressor
What is a Jump Starter?
A jump start is also known as the boost, which is used for starting a discharged vehicle. It's a kind of temporary connection or power supply from another external source to supply power to the car with a depleted battery. That will be able to crank the engine quickly.
After starting the vehicle, you can go for a standard charging system by removing the jump starter.
The jump starter can recharge with a good plug adapter or USB ports in the running car. Some of them are so portable that they will fit in your glove box.
Which Vehicle jump starter is best?
Which jump starter is the best? Have any ideas? Well, the answer is it depends on several factors like their types, size, battery backup, and other features.
Type of jump starter
So far, jump starters are two types such as lead-acid and lithium-ion.
The old battery technology engineers lead-acid with a big and heavy size. They are not portable as they lose charge quickly.
On the other hand, the Lithium-ion jump starter is compact but incredibly powerful. You may wonder that it can even power up an 18-wheeler truck!
Besides, lithium battery jump starters have a longer shelf life.
Recommendation
Buying a lithium battery jump starter will be the best choice for you. You can go for NOCO Boost Plus, GOOLOO Jump Starter as they both are lithium battery jump starters.
The next is considering the battery size.
Battery size and voltage
The jump starter will vary according to the vehicle's battery size and voltage. It's crucial to purchase the appropriate sized jump starter; otherwise, the wrong jump starter may affect your car's battery.
The jump starter can work from 6 volts to 12 volts. In addition, for industrial purposes and large, heavy trucks, it can power up to 24 volts.
Moreover, motorcycles, small cars usually have a 6 volts battery. Most personal vehicles, small trucks, watercraft, lawnmowers, snowmobiles, etc., have 12 volts batteries. So check the battery voltage and make a purchase decision for jump-starting based on your vehicle's battery voltage.
Recommendation
Like the NOCO Boost Plus, Imazing Portable Car Jump Starter, Schumacher Jump Starter, Portable Power Port, etc., have ports for 12 volts battery.
They are manufactured to maintain the safety purpose of lithium batteries.
Size & type of engine
When you want to buy a jump starter for your car, you should consider the size and type of the engine. The car engine size maybe 4, 6, or 8 cylinders as well as gas or diesel based. So a suitable jump starter is a must according to the type and size of the engine.
Generally, a gas engine requires smaller-sized batteries than a diesel engine. So, if you have a diesel engine, you need a more powerful jump starter.
The table below depicts the engine size and type with the power requirement.
| Size | Gasoline Engine | Diesel Engine |
| --- | --- | --- |
| 8-cylinder | 400-550 amps | 600-750 amps |
| 6-cylinder | 250-350 amps | 450-600 amps |
| 4-cylinder | 150-250 amps | 300-450 amps |
Recommendation
GOOLOO 4000A Peak SuperSafe Car Jump Starter is suitable for diesel engines. Again, Schumacher Jump Starter and Portable Power Port are appropriate for 4-6 Cylinder cars.
If the jump starter is not suitable enough to inject sufficient amounts of power based on the battery size, that may damage the battery.
Check the size and type of the car engine and find the appropriate jump starter to keep your car's battery safe and sound.
Multifunction features and extra accessories
Between 2 types of jump starters, lithium-ion has advanced features and functionalities. We already mentioned that they are portable and more valuable than lead-acid.
Also, they have some other extra features like one or more USB ports, LCD display, emergency hammer, flashlight, compass, Radios, Emergency Lights, 12-Volt Outlets/Receptacles, Inverters, Air Compressors, some other wireless charging pad for phones and other gadgets, etc.
Recommendation:
For example, FCONERGY Car Jump Starter, NOCO Boost Plus GB40 1000 Amp 12-Volt UltraSafe Lithium Jump Starter Box more reviews, and above mentioned some jump starters come with extra accessories as well.
Buy the jump starter with an LED flashlight, Compass, LCD screen, power bank, USB charging ports, etc. That will help to manage the device more efficiently.
Safety features
Mostly jump starters are safe to use. They have short circuit and overcharge protection, back-feed protection, anty spark, reserve polarity, etc., safety features.
Our recommended jump starters are manufactured by maintaining all the safety features ensuring proper protection of the cars and users.
Recommendation
Three-quarters of jump starters are manufactured, maintaining a limited amount of safety features. So make sure your selecting jump starter is made by following all the safety features.
How to jump-start a car starter?
When you find your car's battery is dead, you need to use a jump starter. But how to use a jump starter correctly? To start jump starter for your vehicle safely, you can follow the following steps-
Step 1:👉 First, take out the jumper cables as it's a good habit to keep jumper cables in the car's trunk compartment. Otherwise, you have to find a stranger who will assist you and provide jump cables.
Step 2:👉 Park the vehicles in the park, then shut off the ignition. Also, the parking brakes need to be engaged for both cars.
Step 3:👉 At the positive terminal, there is a sign like '+' or 'POS.' Attach the red clips with it.
Step 4:👉 In a similar way, attach the negative side of the battery with the black clips.
Step 5:👉 Then attach the unpainted material surface of the car with the last black clip.
Step 6:👉 After that, use the metal struts to open the hood.
Step 7:👉 Start the working car and keep it running for a minimum of 5 minutes.
Step 8:👉 Then try to start the other car. Make sure the cables are correctly connected.
If your car starts correctly, drive for around 15 minutes to recharge the battery accurately. Before then, don't shut down the engine.
If the engine doesn't start, you need professional help. Maybe the battery is fully damaged, and you need to replace it.
Car jump starter and battery charger
The jump starter and battery charge of the car are different. Usually, the battery charger requires several hours to 2 days for a full charge. You can use the household 110 to 120 volt Ac outlet for recharge purposes.
On the other hand, you can use the car jump starter anywhere as they don't require an outlet for plugging in. Also, you don't need to recharge it as other vehicles are used to crank the engine.
If you ask about the benefit of a car jump starter over the battery charger, then it is cost-effective and time-saving. The jump starter can start the car immediately where the battery needs to be charged before.
Car jump starter and portable charger 2-in-1
We already discussed the car jump starter. It's an external source to start the car immediately. The portable charger 2 in 1 has a dual-port and a high-capacity portable battery. They are used for fast charging.
There are some special portable chargers included in car jump starters. That is usually used as a port that can connect alligator clips to the cables.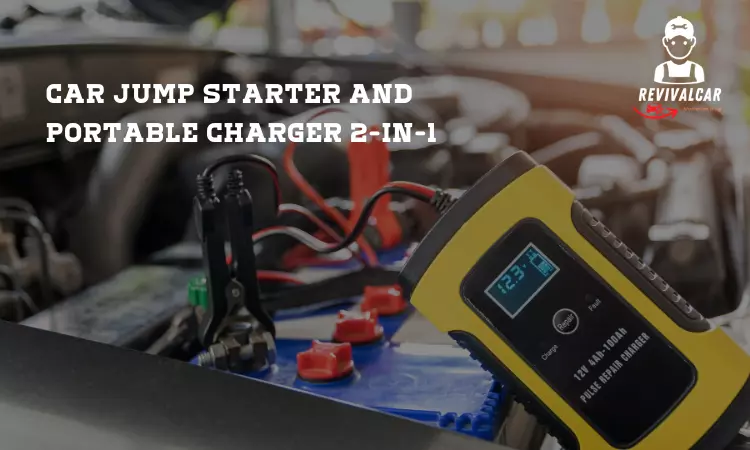 car jump starter and tire inflator
You need a tire inflator if the tire is punctured anyhow. The tire inflator can seal the punctured tire and pressurize gas to inflate it.
When you select the jump starter, you should choose the one which comes with a tire inflator. A car jump starter with a tire inflator will help you turn over the car's dead battery. You can do it fast and easily.
Final Words
A vehicle jump starter is a valuable tool if you have any kind of vehicle, either a bike, private car, or truck. It works as an emergency kit anytime, anywhere.
We have already discussed which are the best jump starters for your cars and their features.
When you pick a jump starter, make sure they have all the qualities and features. Also, they are manufactured by maintaining safety features.
If you buy a jump starter based on your car engine size, type, and functionalities, you can handle an emergency situation anytime by using it.
Hopefully, our content about jump starters will be helpful for you.
Stay safe, drive safely.